Global premium tyremakers continue to lead Tyres & Accessories annual ranking of the leading tyre manufacturers. Owing to the fact that all five of the top five firms have remained stable in their positions, it is difficult to view the chart very differently. Indeed, stability is the order of the day on this year's table, with 12 of the 20 keep the same positions as last year.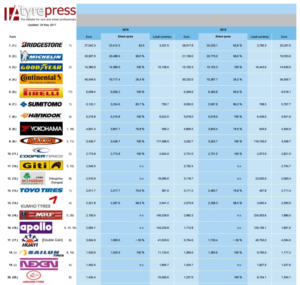 But that doesn't mean that nothing's happening. On the contrary. While Pirelli for example maintains 5th position on most recently table, which is based on full-year 2016 financial results, this position does not take into account the separation of Pirelli consumer and industrial businesses. Neither does it cover the integration of Pirelli owner ChemChina's other tyre assets (Aeolus, Double Happiness, Yellow Sea) back into the respective post separation Pirelli and Promoteon businesses. At the same time, this year Sumitomo has leap frogged Hankook into sixth place by a hair's breadth. Therefore, is the newly separated Pirelli consumer only business is anywhere near a billion euros smaller than its previous combined self is likely that fifth place will be very much in contention this time next year.
Other notable changes include Cooper jumping over Giti back into 10th position. And what's more – based on 2016 figures – there is now 200 million euros of clear water between the companies, which doesn't make it easy for Giti to return to 10th place by this time next year.
Indian manufacturers MRF and Apollo both rose in our chart during 2016. For MRF's part this means gaining one place up from 16th into 15th position. However, Apollo is arguably growing faster, gaining two places up from 18th to its present position of 16th. With this momentum and with less than 90 million euros between them it looks likely that – of the two competitors – Apollo is on the faster upward trajectory, which could result in it overtaking India's number one firm (MRF) by this time next year.
At the bottom end of the table top 20, new entry Sailun now occupies the position vacated by Apollo's rising star (18th). Meanwhile Nexen can now be found in 19th position, having previously been outside our global top 20.
Speaking of Korean tyremakers, it will be very interesting to see what happens with Kumho in the next 12 months. During 2016 Kumho held 14th position, but with Doublestar currently finalising its takeover of the Korean firm – a future combination of the two firms could take them to 13th place.
—
Original news by http://www.tyrepress.com