Demand for car and light commercial vehicle tyres in Europe declined year-on-year in June. In its monthly market update, Michelin reports that demand for both original equipment and replacement market tyres was two per cent lower compared with June 2016. The tyre maker comments that this weakening demand was driven by sell-in price increases against a backdrop of slowing sales momentum. For the year to 30 June, demand in the original equipment market was up one per cent year-on-year, while demand in the replacement segment is two per cent higher.
Sales within the commercial vehicle tyre segment were a mixed bag. According to Michelin's information, demand for tyres in the European original equipment market in June was five per cent higher than a year earlier, while slowing fleet sales dragged replacement market demand down three per cent year-on-year. Demand in the period between January and June 2017 was up six per cent year-on-year in both the original equipment and replacement tyre markets.
The quoted figures for the European market include Turkey but exclude Russia and the CIS countries.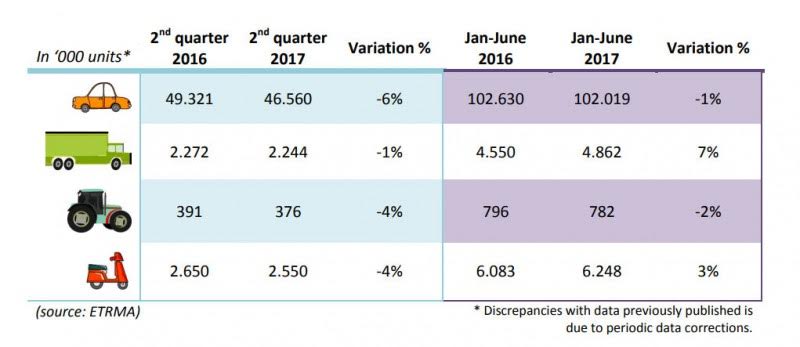 The European Tyre Manufacturers' Association (ETRMA) reports a sluggish second quarter of 2017. According to the association, members' sales "slowed down significantly" during the three months to 30 June compared with the first quarter of the year, and were also below sales achieved in the second quarter of 2016. Performance in all segments was negative, however this trend was particularly strong in the consumer segment.
The 12 ETRMA tyre manufacturer members sold a total of 46.6 million car and SUV/4×4 tyres in the second quarter of this year, 5.6 per cent less than in the second quarter of 2016. Commercial vehicle tyre sales declined 1.2 per cent year-on-year to 2.2 million units, while sales of agricultural tyres were down 3.8 per cent to 376,000 units. Two-wheel tyre sales declined 3.8 per cent to 2.6 million units.
When looking at the first six months of the year, only a slight flexion can be seen for consumer and agricultural tyres – these are down 0.6 per cent and 1.8 per cent respectively – whilst the other segments remain positive – and even significantly so, when looking at truck tyres, with sales up 6.9 per cent year-on-year.
—
Source: www.tyrepress.com